Integrity Legal
Posts Tagged 'immigration'
It has come to this blogger's attention that the new administration in the USA has promulgated policies which will place more scrutiny upon those who may be applying for visas to the USA in the future. The proposed "extreme vetting" of US visa applications in a Consular Processing context appears to be aimed at narrow subsets of "red flagged" visa applicants. In order to best summarize this policy shift, it is necessary to quote directly from a relatively recent Reuters article:
The final cable seen by Reuters, issued on March 17, leaves in place an instruction to consular chiefs in each diplomatic mission, or post, to convene working groups of law enforcement and intelligence officials to "develop a list of criteria identifying sets of post applicant populations warranting increased scrutiny." Applicants falling within one of these identified population groups should be considered for higher-level security screening…
The new administration appears keen to narrowly target those applicants which are deemed to be appropriate for "increased scrutiny". However, a rather recent proposal has been submitted by the U.S. Department of State requesting implementation of the emergency review procedures of the Paperwork Reduction Act of 1995. In short, the DOS is requesting expedited processing of a request to modify the forms associated with applications for US visas. To quote directly from the US government website Regulations.gov:
The Department proposes requesting the following information, if not already included in an application, from a subset of visa applicants worldwide, in order to more rigorously evaluate applicants for terrorism or other national security-related visa ineligibilities:

Travel history during the last fifteen years, including source of funding for travel;
Address history during the last fifteen years;
Employment history during the last fifteen years;
All passport numbers and country of issuance held by the applicant;
Names and dates of birth for all siblings;
Name and dates of birth for all children;
Names and dates of birth for all current and former spouses, or civil or domestic partners;
Social media platforms and identifiers, also known as handles, used during the last five years; and
Phone numbers and email addresses used during the last five years.

Most of this information is already collected on visa applications but for a shorter time period, e.g. five years rather than fifteen years. Requests for names and dates of birth of siblings and, for some applicants, children are new. The request for social media identifiers and associated platforms is new for the Department of State, although it is already collected on a voluntary basis by the Department of Homeland Security (DHS) for certain individuals.
It is this blogger's opinion that the long term implications of these policy changes will be broad. However, from reading the aforementioned notice, it appears that, at the present time, DOS personnel will only be seeking more detailed information on certain individual applicants, and not from all applicants seeking visas to the USA. How will the narrow subset of applicants subject to increased scrutiny be determined? To answer that it is necessary to quote further from the Regulations.gov website:
Department of State consular officers at visa-adjudicating posts worldwide will ask the proposed additional questions to resolve an applicant's identity or to vet for terrorism or other national security related visa ineligibilities when the consular officer determines that the circumstances of a visa applicant, a review of a visa application, or responses in a visa interview indicate a need for greater scrutiny.
Notwithstanding the fact that enhanced scrutiny will apparently only be applied on a case by case basis and only upon those individuals who are deemed to be in need of such scrutiny it seems logical to infer that at some point these additional screening protocols may be applied on a broader basis; if for no other reason than the fact that applying such scrutiny across the board might save time and resources of Consular Officials making cases by case determinations. As it stands, as of the time of this writing, the new protocols add a degree of uncertainty to the visa application process and Consular processing in general as it is difficult to foresee what may be considered a trait which warrants heightened scrutiny. Therefore, planning for such an eventuality is problematic.
As this situation continues to evolve this blog will post further updates.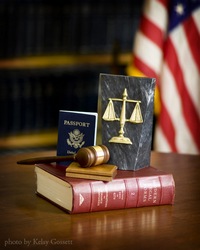 Early Passports
The History of passports and visas is rather fascinating particularly from the standpoint of current immigration policy. Although many people believe that passports were originally intended for shipping purposes, in fact, their original intent seems to have been for inland travel as the etymology of the word "passport," is derived from the word "porte," which was the gate to a Medieval walled city-state (this is also the reason behind the use of the phrase, "sublime porte," when speaking of the old Ottoman Empire because Ambassadors to the court were met at the gates of the City).
Passports were originally designed as letters of safe conduct provided by sovereigns to be used by subjects in far off provinces or foreign lands to prove that they were subjects of their home Kingdom. King Henry the 5th of England is widely credited as having invented the precursor of the modern passport. This document was used by his subjects to prove their nationality in foreign countries.
Early Modern Passports
During the French Revolution and subsequent emigration by many of the upper classes, the use of passports denoted permission by the government for the bearer to leave the country and thus would not cause the bearer political problems upon return to France. This was the situation in which Charles Maurice Talleyrand de Perigord was placed during the Terror that overtook France after the revolution. Were it not for his obtainment of a Passport and subsequent quasi-exile, Talleyrand may very possibly never have returned to France, or at least not have returned to a place in government. Many French Emigres who failed to obtain a passport either died or were never able to return to France. Such was the importance of the passport at this time.
Modern Passports
After WWI Passports became more widely used as identification documents. Passports began being made in booklet form shortly before the first World War, but as they were not in wide usage, few people had them.  It was around the turn of the 20th century that passports began to have photographs of the bearer in them. Throughout the 20th century passports evolved into the documents we know today through the integration of watermarks, holograms, and biometric information chips.  Today passports are used not only for immigration purposes, but for identification and banking purposes as well.
Current Passport Categories
There are a few types of passports:
Ordinary Tourist Passports (The type held by the vast majority of passport holders)
Diplomatic Passports (used by visiting diplomats, contrary to popular belief, they do not confer diplomatic immunity, only the host nation can confer diplomatic immunity)
Official Passports (held by those on official business from a foreign government, but not for diplomatic activity)
Dual Passports
Many countries allow for dual nationality and therefore permit (either explicitly or tacitly) a citizen retaining a passport of a foreign nation. Other countries will not allow dual nationality and the obtainment of a foreign passport could result in the automatic revocation of said country's passport.
The United States currently allows American citizens to have dual nationality.
For Information About US Immigration Law please see:
Note: None of the above information should be taken as legal advice.
The hiring of a lawyer is an important decision that should not be based solely on advertisement. Before you decide, ask us to send you free written information about our qualifications and experience. The information presented on this site should not be construed to be formal legal advice nor the formation of a lawyer/client relationship.