Integrity Legal
Posts Tagged 'travel document'
Since the last posting on this blog there have been a number of developments and discussions with respect to both Thai and American immigration issues. One development which has received substantial media coverage has been the Executive Orders signed by President Biden with regard to Immigration policy. Of particular note to the administration of this web log was the order titled: Executive Order on Restoring Faith in Our Legal Immigration Systems and Strengthening Integration and Inclusion Efforts for New Americans. The content of this Executive Order seems designed to impose a new policy paradigm upon the Immigration bureaucracy (or perhaps reimpose of a previously existing paradigm). This effort to change the prevailing paradigm is evidenced in the opening lines of the order itself:
Consistent with our character as a Nation of opportunity and of welcome, it is essential to ensure that our laws and policies encourage full participation by immigrants, including refugees, in our civic life; that immigration processes and other benefits are delivered effectively and efficiently; and that the Federal Government eliminates sources of fear and other barriers that prevent immigrants from accessing government services available to them…The Federal Government should develop welcoming strategies that promote integration, inclusion, and citizenship, and it should embrace the full participation of the newest Americans in our democracy.
Clearly, the administration seeks to re-establish a sense of decorum and compassion tot eh immigration system. The order goes on the delineate as to more concrete steps toward those ends:
Sec. 3.  Restoring Trust in our Legal Immigration System.  The Secretary of State, the Attorney General, and the Secretary of Homeland Security shall review existing regulations, orders, guidance documents, policies, and any other similar agency actions (collectively, agency actions) that may be inconsistent with the policy set forth in section 1 of this order.

(a)  In conducting this review, the Secretary of State, the Attorney General, and the Secretary of Homeland Security shall:

(i)   identify barriers that impede access to immigration benefits and fair, efficient adjudications of these benefits and make recommendations on how to remove these barriers, as appropriate and consistent with applicable law; and

(ii)  identify any agency actions that fail to promote access to the legal immigration system — such as the final rule entitled, "U.S. Citizenship and Immigration Services Fee Schedule and Changes to Certain Other Immigration Benefit Request Requirements," 85 Fed. Reg. 46788 (Aug. 3, 2020), in light of the Emergency Stopgap USCIS Stabilization Act (title I of division D of Public Law 116-159) — and recommend steps, as appropriate and consistent with applicable law, to revise or rescind those agency actions.

(b)  Within 90 days of the date of this order, the Secretary of State, the Attorney General, and the Secretary of Homeland Security shall each submit a plan to the President describing the steps their respective agencies will take to advance the policy set forth in section 1 of this order.

(c)  Within 180 days of submitting the plan described in subsection (b) of this section, the Secretary of State, the Attorney General, and the Secretary of Homeland Security shall each submit a report to the President describing the progress of their respective agencies towards implementing the plan developed pursuant to subsection (b) of this section and recognizing any areas of concern or barriers to implementing the plan.
It remains to be seen precisely how this will impact the American immigration system, and it should be noted that the apparatus is unlikely to fundamentally change over night. That stated, there is good reason to hope there may be "light at the end of the tunnel" after months of seemingly unnecessary delay and obfuscation in the visa process. There does appear to one area of particular interest to the current administration with respect to US immigration. Namely, there have been a number of issues associated with the "Public Charge rule" and prior to the issue of COVID-19 coming to the forefront of immigration analysis, public charge was shaping up to be a significant obstacle for a number of family based immigration cases (including, but not limited to: the K-1 visa, the K-3 visa, the CR-1 visa, and the IR-1 visa categories). The recently promulgated order seems to take this issue seriously:
The Secretary of State, the Attorney General, the Secretary of Homeland Security, and the heads of other relevant agencies, as appropriate, shall review all agency actions related to implementation of the public charge ground of inadmissibility in section 212(a)(4) of the Immigration and Nationality Act (INA), 8 U.S.C. 1182(a)(4), and the related ground of deportability in section 237(a)(5) of the INA, 8 U.S.C. 1227(a)(5).  They shall, in considering the effects and implications of public charge policies, consult with the heads of relevant agencies, including the Secretary of Agriculture, the Secretary of Health and Human Services, and the Secretary of Housing and Urban Development.

(a)  This review should:

(i)    consider and evaluate the current effects of these agency actions and the implications of their continued implementation in light of the policy set forth in section 1 of this order;

(ii)   identify appropriate agency actions, if any, to address concerns about the current public charge policies' effect on the integrity of the Nation's immigration system and public health; and

(iii)  recommend steps that relevant agencies should take to clearly communicate current public charge policies and proposed changes, if any, to reduce fear and confusion among impacted communities.

(b)  Within 60 days of the date of this order, the Secretary of State, the Attorney General, and the Secretary of Homeland Security shall each submit a report to the President describing any agency actions identified pursuant to subsection (a)(ii) of this section and any steps their agencies intend to take or have taken, consistent with subsection (a)(iii) of this section.
It seems the administration is particularly keen to address the difficulties imposed by rules changes pertaining to public charge and hopefully some revision of the rules may be forthcoming sooner rather than later.
Meanwhile, although there has not been a great deal of substantive change to current immigration policy in Thailand, there has been a great deal of discussion regarding possible policy changes to in an effort to revitalize the Thai tourism sector which, depending upon the source, seems to have seen between 1-3 million layoffs since the response to the pandemic began. Once solution discussed has been the notion of a "vaccine passport" or "immunity passport". Essentially, this notion centers upon the idea that those who can prove they have been inoculated against COVID-19, via one of the many vaccinations currently on the market, will be allowed to travel to Thailand without the need to quarantine in one of the alternative state quarantine (ASQ) facilities. Notwithstanding the fact that there has ben a great deal of discussion on this matter, it currently appears, as with the so-called "travel bubble" scheme, that this program will not be implemented any time soon. As the tourism sector in Thailand languishes, long stay tourists may avail themselves to special tourist visas or standard TR visas to stay in Thailand. Furthermore, the Thai retirement visa remains a viable option for those wishing to travel to Thailand for retirement purposes.
As with any large government agency, errors can occur in processing government documentation. The United States Citizenship and Immigration Service (USCIS) is not immune to human error and recently the Service issued some advance parole travel documents with incorrect dates. To quote a press release promulgated by the American Immigration Lawyers Association:
"U.S. Citizenship and Immigrations Services (USCIS) announced today that it will reissue Advance Parole documents (Form I-512) in response to documents that were mailed to applicants with an incorrect issue date of January 5, 1990. All affected documents have been identified and USCIS will automatically reissue documents to individuals who have received a document with the incorrect issue date."
It is fortunate that USCIS caught this problem and took steps to remedy the situation. The aforementioned press release went on to say:
"All documents continue to be valid as the expiration dates remain accurate, therefore it is not necessary for applicants to contact USCIS regarding their pending application unless their application is outside the normal processing time of 90 days."
Again, as USCIS took steps to quick deal with this problem the impact upon prospective immigrants or those with pending visa applications is likely to be blunted.  However, sometimes prospective immigrants or non-immigrants in the United States need to leave the country for an emergency, but do not wish to forfeit their immigration benefits by doing so, this press release went on to detail the steps that immigrants can take to obtain an emergency advance parole travel document:
"If you need to travel urgently and you have received a document with an invalid issue date, then you may travel using the incorrect document. U.S. Customs & Border Protection (CBP) has been alerted however, you may be questioned about the issuance date. Therefore, please print this explanation to share with CBP if necessary."
For those unfamiliar with the subject of advance parole, it is the legal staus that a prospective immigrant or non-immigrant must obtain in order to leave the USA and return in status. This can be a particularly important issue for those present in the US on a K1 visa or a K3 Visa where the applicant has submitted an application for adjustment of status. Unlike an Immigrant Visa (CR1 or IR1), a K1 fiance visa or a K3 marriage visa requires that the applicant adjust status in order to obtain lawful permanent residence. Although this rarely comes up in the context of a K3 visa, the validity of a K1 visa is of such short duration that the underlying visa usually expires before the adjustment of status is approved. While the application is pending the K1 holder will be allowed to remain in the US, but if they leave before adjusting status they will fall out of status if they do not receive advance parole.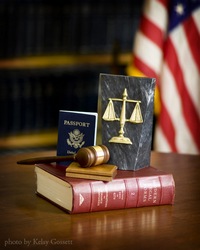 Early Passports
The History of passports and visas is rather fascinating particularly from the standpoint of current immigration policy. Although many people believe that passports were originally intended for shipping purposes, in fact, their original intent seems to have been for inland travel as the etymology of the word "passport," is derived from the word "porte," which was the gate to a Medieval walled city-state (this is also the reason behind the use of the phrase, "sublime porte," when speaking of the old Ottoman Empire because Ambassadors to the court were met at the gates of the City).
Passports were originally designed as letters of safe conduct provided by sovereigns to be used by subjects in far off provinces or foreign lands to prove that they were subjects of their home Kingdom. King Henry the 5th of England is widely credited as having invented the precursor of the modern passport. This document was used by his subjects to prove their nationality in foreign countries.
Early Modern Passports
During the French Revolution and subsequent emigration by many of the upper classes, the use of passports denoted permission by the government for the bearer to leave the country and thus would not cause the bearer political problems upon return to France. This was the situation in which Charles Maurice Talleyrand de Perigord was placed during the Terror that overtook France after the revolution. Were it not for his obtainment of a Passport and subsequent quasi-exile, Talleyrand may very possibly never have returned to France, or at least not have returned to a place in government. Many French Emigres who failed to obtain a passport either died or were never able to return to France. Such was the importance of the passport at this time.
Modern Passports
After WWI Passports became more widely used as identification documents. Passports began being made in booklet form shortly before the first World War, but as they were not in wide usage, few people had them.  It was around the turn of the 20th century that passports began to have photographs of the bearer in them. Throughout the 20th century passports evolved into the documents we know today through the integration of watermarks, holograms, and biometric information chips.  Today passports are used not only for immigration purposes, but for identification and banking purposes as well.
Current Passport Categories
There are a few types of passports:
Ordinary Tourist Passports (The type held by the vast majority of passport holders)
Diplomatic Passports (used by visiting diplomats, contrary to popular belief, they do not confer diplomatic immunity, only the host nation can confer diplomatic immunity)
Official Passports (held by those on official business from a foreign government, but not for diplomatic activity)
Dual Passports
Many countries allow for dual nationality and therefore permit (either explicitly or tacitly) a citizen retaining a passport of a foreign nation. Other countries will not allow dual nationality and the obtainment of a foreign passport could result in the automatic revocation of said country's passport.
The United States currently allows American citizens to have dual nationality.
For Information About US Immigration Law please see:
Note: None of the above information should be taken as legal advice.
The hiring of a lawyer is an important decision that should not be based solely on advertisement. Before you decide, ask us to send you free written information about our qualifications and experience. The information presented on this site should not be construed to be formal legal advice nor the formation of a lawyer/client relationship.