Integrity Legal
Posts Tagged 'Thai Ministry of Labor'
Work Permits can be a major issue for those engaging in non-recreational activity in Thailand. Thaivisa. com is reporting that some of those involved with the King's Cup Regatta were worried that the Ministry of Labour and the Royal Thai Immigration Police may crackdown on foreigners participating in the Regatta. The reason for the possible crackdown was supposedly to be due to unsanctioned employment-like activity. Fortunately, as Thaivisa.com is reporting, rumors of a crackdown are unfounded as authorities have stated that no sailors will be detained for work permit violations connected with the event.
Quoting Thaivisa.com:
Rumors of an imminent crackdown on foreign sailors taking part in the King's Cup Regatta over work permit violations are untrue, the head of Phuket Immigration has confirmed. A thread on the popular Thai Visa web forum yesterday started with the post:  'Latest from Phuket Town… raiding King's Cup regatta tomorrow for professional sailors without work permits….' As Immigration Police would have to play a role in any such crackdown, the Gazette contacted Phuket Immigration Police Superintendent Col Chanatpol Yongbunjerd to see if the rumor was true; it wasn't, and isn't. 'I guarantee that such arrests won't happen,' he said."
Although it may seem trivial, some officials take work permit violations very seriously. As a result, some activities which foreigners consider to be "non-employment," are used as a basis for fining or detaining individuals in the Kingdom for violations of Thai Labor law.
Immediately following the relatively recent Tsunami in Southern Thailand, many volunteers arrived to assist in relief efforts. Some of these volunteers were disturbed to be informed by Thai authorities that they were in violation of Thai labor regulations. To quote Thailandqa.com:
"'More than 1,000 foreign volunteers from about 25 countries helping tsunami survivors rebuild shattered lives were outraged yesterday to hear they face legal action by the Labour Ministry unless they have a work permit. Sombat Boonngam-anong, director of the Chiang Rai-based Krajok Ngao Foundation, said confusion and anger reigned among the foreign volunteers at Khao Lak in Phangnga's Takua Pa district when a Labour Ministry official told a local English-language newspaper that they were required to register with the ministry for a work permit otherwise legal action would be taken against them starting March 1.' — Bangkok Post, 2nd March 2005, PENCHAN CHAROENSUTHIPAN"
Normally, in order for a foreign national to obtain a Thai work permit the applicant must also present a validly issued Thai visa. Many Thailand visa categories enable the bearer to apply for a work permit. However, the most optimal visa category to support a work permit is the business visa. Unfortunately, it can be difficult to obtain a Thai business visa from a Thailand Embassy or Consulate abroad and therefore many opt to stay in Thailand on tourist visas or exemption stamps. Neither of these documents, on their own, can be used as a basis for submitting a Thai work permit application. Therefore, those wishing to work in the Kingdom should seriously consider applying for a proper visa prior to arrival.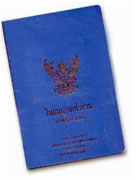 Many people dream of living and working in Thailand. Some love the beaches, while others love the exotic atmosphere and "mai pen rai," attitude of the Thai people. Still others see Thailand as a land of unexploited opportunity. Whatever employment opportunities Thailand holds, it is imperative that a non-Thai seeking employment in Thailand first acquire a Thai work permit before they begin working in the Kingdom.
The Difference Between a Thai Work Permit and a Thai Business Visa
Unlike some other countries, notably Korea, Thailand has a system in which a long term visa is a different document from a work permit. A common misconception is the belief that a Thai Business Visa gives the bearer the right to work in Thailand. A Business visa and a Thai work permit are two different documents issued by two different Thai government agencies. The Thai work permit is issued by the Thai Ministry of Labour while the Thai Business Visa is issued at a Royal Thai Consulate overseas and extended at a Royal Thai Immigration police office within the Kingdom.
Who Needs A Thai Work Permit?
In Thailand a work permit is a necessity for the expat wishing to earn a living in the tropical Kingdom. Many people in Thailand opt to work without obtaining the proper work permit. Still others work for companies and are told that a Thai work permit is not needed. This scenario is often played out where teaching is involved. Many teachers are told by their schools that they do not need a work permit. In reality, anyone engaging in any sort of labor in Thailand must obtain a work permit. Even those participating in charity work must get a Thai work permit.
How can a Thai Lawyer Assist in Obtaining a Thai Work Permit

A Thai lawyer can give specific advice regarding the steps that must be taken in order to obtain a Thai work permit. Also, a competent legal professional can accompany the non-Thai work permit seeker to the Thai Ministry of Labour (Labor) in order to submit the work permit application and ultimately obtain the actual Thai work permit. It is always recommended that those seeking a Thai work permit retain the services of a legal professional in order to expedite the application properly.
Note: None of the above post should be used in lieu of legal advice from a licensed attorney in the jurisdiction in which one wishes to conduct business.
The hiring of a lawyer is an important decision that should not be based solely on advertisement. Before you decide, ask us to send you free written information about our qualifications and experience. The information presented on this site should not be construed to be formal legal advice nor the formation of a lawyer/client relationship.