Integrity Legal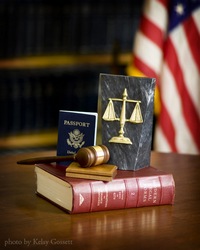 Early Passports
The History of passports and visas is rather fascinating particularly from the standpoint of current immigration policy. Although many people believe that passports were originally intended for shipping purposes, in fact, their original intent seems to have been for inland travel as the etymology of the word "passport," is derived from the word "porte," which was the gate to a Medieval walled city-state (this is also the reason behind the use of the phrase, "sublime porte," when speaking of the old Ottoman Empire because Ambassadors to the court were met at the gates of the City).
Passports were originally designed as letters of safe conduct provided by sovereigns to be used by subjects in far off provinces or foreign lands to prove that they were subjects of their home Kingdom. King Henry the 5th of England is widely credited as having invented the precursor of the modern passport. This document was used by his subjects to prove their nationality in foreign countries.
Early Modern Passports
During the French Revolution and subsequent emigration by many of the upper classes, the use of passports denoted permission by the government for the bearer to leave the country and thus would not cause the bearer political problems upon return to France. This was the situation in which Charles Maurice Talleyrand de Perigord was placed during the Terror that overtook France after the revolution. Were it not for his obtainment of a Passport and subsequent quasi-exile, Talleyrand may very possibly never have returned to France, or at least not have returned to a place in government. Many French Emigres who failed to obtain a passport either died or were never able to return to France. Such was the importance of the passport at this time.
Modern Passports
After WWI Passports became more widely used as identification documents. Passports began being made in booklet form shortly before the first World War, but as they were not in wide usage, few people had them.  It was around the turn of the 20th century that passports began to have photographs of the bearer in them. Throughout the 20th century passports evolved into the documents we know today through the integration of watermarks, holograms, and biometric information chips.  Today passports are used not only for immigration purposes, but for identification and banking purposes as well.
Current Passport Categories
There are a few types of passports:
Ordinary Tourist Passports (The type held by the vast majority of passport holders)
Diplomatic Passports (used by visiting diplomats, contrary to popular belief, they do not confer diplomatic immunity, only the host nation can confer diplomatic immunity)
Official Passports (held by those on official business from a foreign government, but not for diplomatic activity)
Dual Passports
Many countries allow for dual nationality and therefore permit (either explicitly or tacitly) a citizen retaining a passport of a foreign nation. Other countries will not allow dual nationality and the obtainment of a foreign passport could result in the automatic revocation of said country's passport.
The United States currently allows American citizens to have dual nationality.
For Information About US Immigration Law please see:
Note: None of the above information should be taken as legal advice.
Tags: history of passports, immigration, passport, travel document, us passport
2 Responses to "A Brief History of Passports"
The hiring of a lawyer is an important decision that should not be based solely on advertisement. Before you decide, ask us to send you free written information about our qualifications and experience. The information presented on this site should not be construed to be formal legal advice nor the formation of a lawyer/client relationship.